The Kyzylarai mountain and forest oasis, located in Central Kazakhstan, gives truly exclusive opportunities for a traveler. Where else can you make a journey, figuratively speaking, "3000 years back" and "1500 metres up" just within a few days?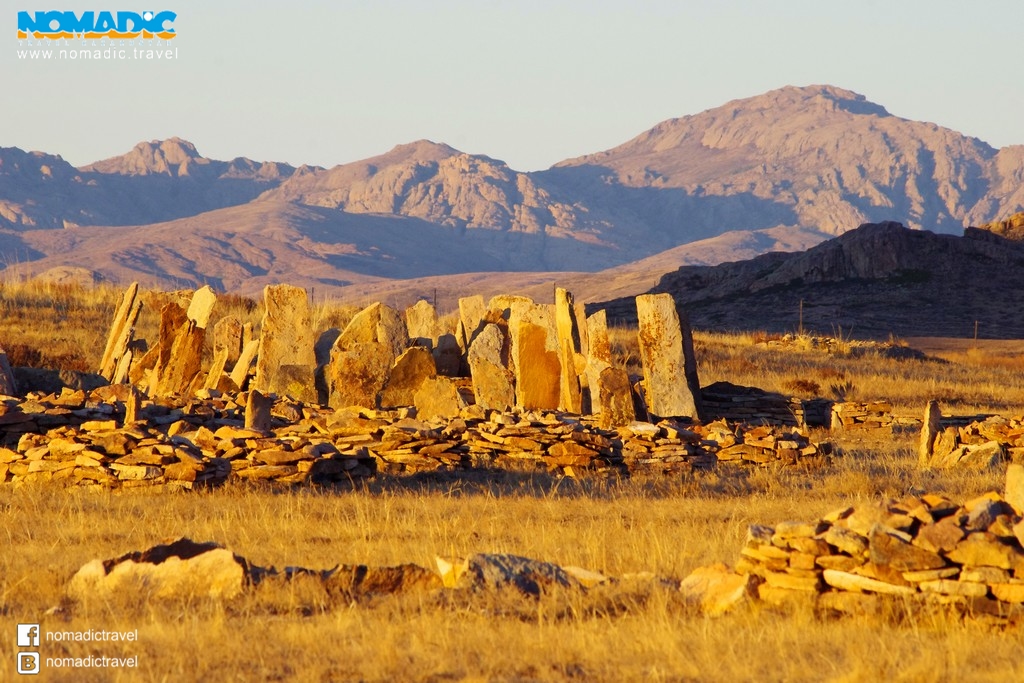 Just here, in the Kyzylarai mountains, the highest point of Sary Arka, Aksoran peak (1565 metres), is situated. Exactly these places are considered practically the only big habitat of argali on the territory of Kazakhstan. Not to mention pine forests, which grow on the granite rocks and present particular interest for scientists being the most southern place of the pine habitat in the Central Kazakhstan ecosystem, bordering upon deserted areas. Historical heritage is also presented here in a quite interesting way: monumental granite sepulchers of Begazy and rock paintings, dating from the Bronze age, stone statues of the Turkic period and mausoleums of the period of the Kazakh-Jungar wars. Local population has managed to preserve skills of producing articles out of felt and numerous national fermented milk products: koumiss, shubat, kurt etc.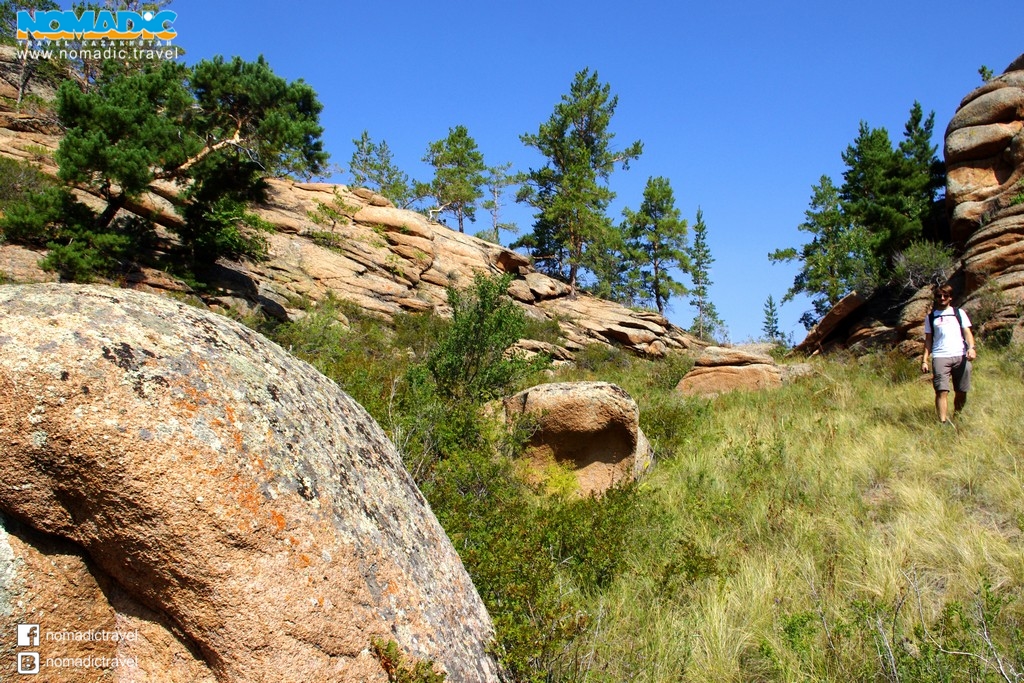 Such an amazing combination of pristine nature, ancient historical monuments and rather well-preserved way of life of the local population makes the Kyzylarai a great place to visit for those who like to explore something new and interesting for themselves.
Program of the tour
Day 1
Journey from Karaganda to Shabanbai Bi (290 km, 4.5 hours). Accommodation in the guesthouse, lunch. Journey from Shabanbai Bi to Akshkol (18 km, 30 min.), visiting the stone statues (balbals) of the Turkic period on the way. Pedestrian excursion around the Begazy – necropolis of the late Bronze age, being the most important archaeological discovery on the territory of Central Kazakhstan, as old as more than 3000 years. Way back to Shabanbai Bi. Dinner.
Day 2
Breakfast. Journey from Shabanbai Bi to Torkora camping site (7 km, 15-20 min). Attempt of climbing Aksoran peak (3,5 -4 hours, climb – 560 metres) – the highest point of Sary Arka, its field of view reaches 120 kilometres. Rest on the top of the mountain. Way back to the village. Lunch. Return to Karaganda.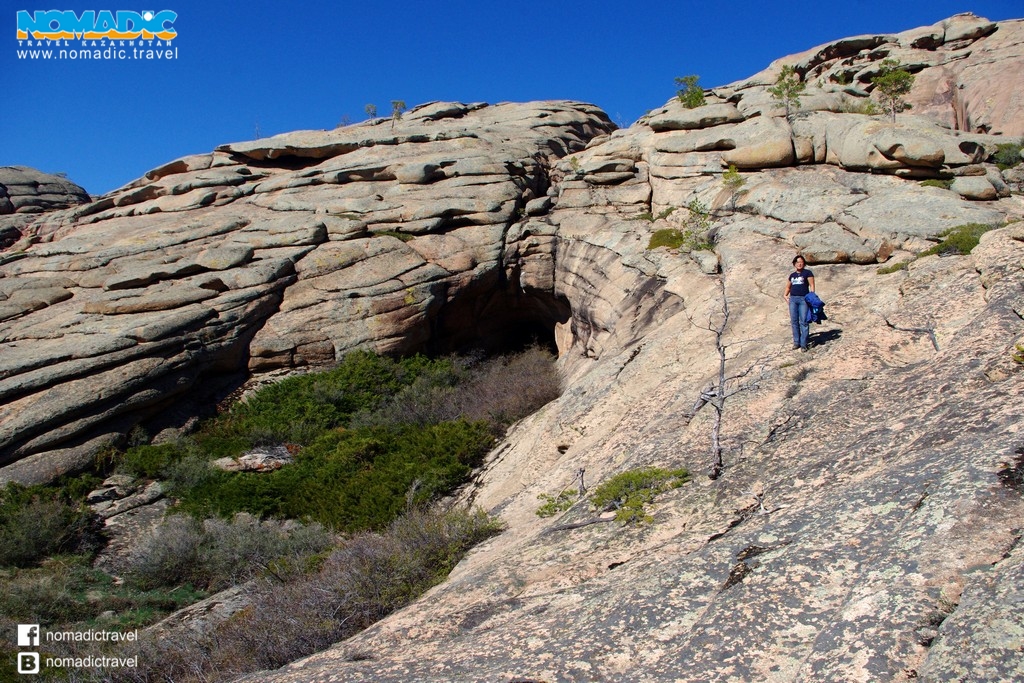 Cost per person
| | | | | | | |
| --- | --- | --- | --- | --- | --- | --- |
| Size of group | 1 | 2 | 3 | 4 | 5 | 6 |
| Price, KZT | 214779 | 118939 | 86993 | 71020 | 61436 | 55046 |
The above-mentioned prices include: all the journeys by all-wheel drive minibus according to the program of the tour, services of a driver and an English-speaking guide-interpreter (in case of need), accommodation in guesthouses in Shabanbai Bi village (double and triple rooms available), three meals a day.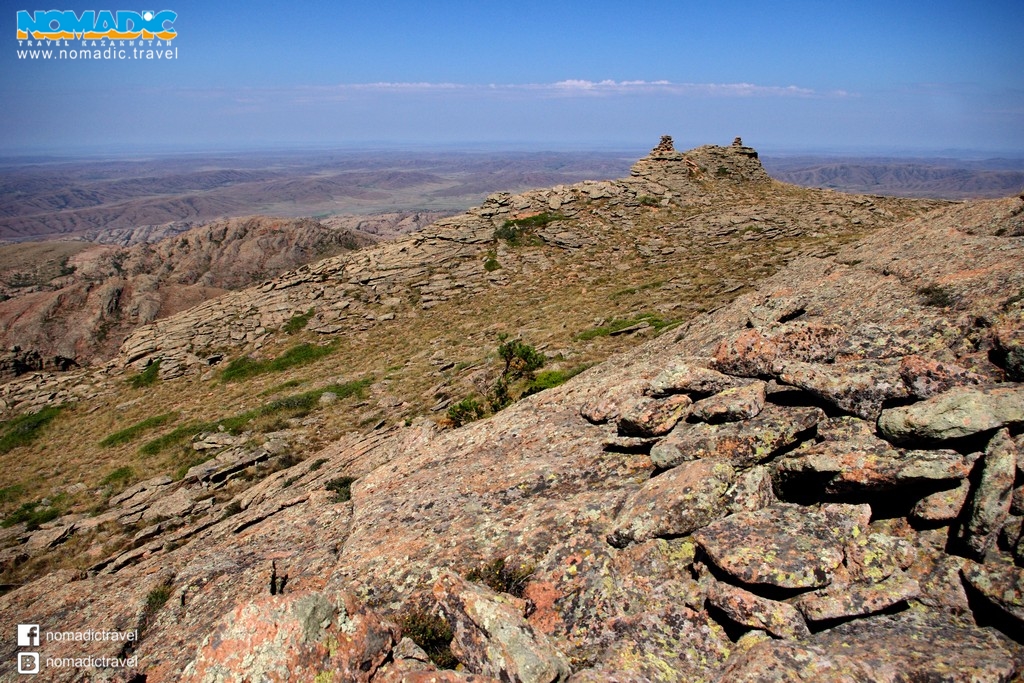 DISCLAIMER
The program of the tour might be changed due to the force majeure circumstances, including (but not limited to):
– official prohibitions on visiting specially protected areas (national parks, reserves, sanctuaries, etc.) due to epizootics or epidemics, fire-setting and other reasons;
– official prohibitions on visiting sites, located in the territory of the former Semipalatinsk nuclear test site and Kurchatov town, Saryshagan test site, Baikonur city and Cosmodrome site, and other areas with limited access;
– cancellation/postponement of plane, train and other transfers;
– extreme weather conditions (steppe fire, snowstorms, lasting rainstorms, etc.) and its consequences (washed out roads, snow drifts, damaged bridges, etc.);
– traffic restrictions (closures);
– other natural and administrative circumstances beyond the control of the company "Nomadic Travel Kazakhstan".